P&G was re-launching Biomat, a low-priced clothes washing powder, specifically targeting the Jewish Orthodox sector (15% of population). The Orthodox are almost unreachable via traditional media: for religious reasons, they do not own TV's or radios, and have limited suitable print publications. They also have negative attitudes towards "classic" persuasive advertising. Despite obstacles, the goal was to create a "big-bang" effect, suitable for a brand re-launch.
Media Strategy: The Orthodox have a well-accepted belief (and religious commandment) of aiding the weak. Our idea was to connect this belief to Biomat: Biomat helps you help the needy. The mechanism of the promotion was simple: bring your used/unneeded clothes to us, we will wash them (with Biomat, of course) and distribute them to the needy. The main feature was a Biomat-branded truck with a giant washing machine in the back. Wherever the truck stopped (in Orthodox town centers), people gathered with their sacks of clothing and were able to see how their clothes donations were washed with Biomat.
Creative Execution: We appealed to the target by engaging their core beliefs, and we overcame the media access limitations of the target by focusing on out-of-home activity. An alliance with a non-profit organisation ensured the believability of the campaign, especially important for this target group. Equally important was that Biomat and its superior cleaning properties were clearly and successfully communicated in all materials, including PR.
Integrated Harmonised Effect: The Biomat-branded truck and events were supported by wild street postings detailing the activity and the dates. The in-street communication was also supplemented with insertions in traditional Orthodox print publications, through in-store shelf communication, as well as through huge PR coverage and free publicity.
Value for Money: Biomat's shares in the Orthodox sector have grown by almost 50% since the activity began. The campaign was a huge success and the client (P&G) is planning to do it again in the upcoming fiscal year.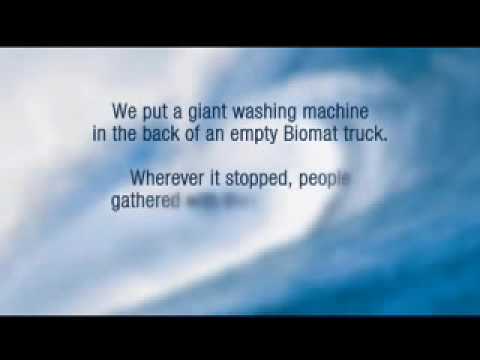 Advertiser: Procter & Gamble
Product: Biomat Laundry Detergent
Agency: MediaCom, Trio ACW
Account Executive: Tssipi Becker Manovitz
Media Planner: Inbar Subery
Account Supervisor: Moti Kuteiner

Cannes Lions: Grand Prix Media Lions 2005